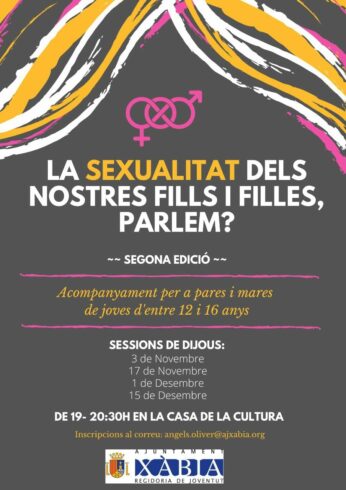 The council of Youth of Xàbia open registration for the second workshop for fathers and mothers who want to receive advice on how to accompany their children in the discovery of sexuality and affectivity, a difficult issue to address in many families.
The specialists in sexology they insist that sex education is essential to having a healthy, safe and diverse sexual life. And they also highlight that what minors do not learn from their circle of trust ends up looking for it in other sources such as friends, television series and the Internet, which do not have the best way or the most truthful information.
From the department directed by Montse Villaverde they propose four sessions to talk and reflect on the main axes of sexuality; from the different sexualities and affectivities, to the stereotypes, myths and beliefs about sexuality; the impact of pornography and social media and the importance of consent.
There will be four talks: November 3, November 17, December 1 and December 15 at 7:00 p.m. at the Casa de Cultura.
For more information and registration you can contact the youth technique at angels.oliver@ajxabia.org
This school for parents is designed so that, in addition to naturally accompanying their sons and daughters in their sexual awakening, the fathers and mothers themselves review their own stereotypes, myths and limiting beliefs about sexuality, they can participate in the emotional education of the minors and improve their communication with the family, particularly with adolescents.