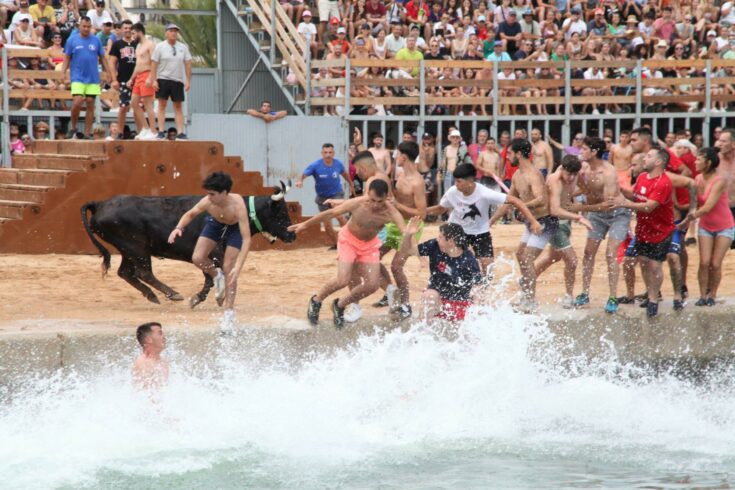 PACMA, Animalist Party, has requested a meeting with the Dénia City Council, with the aim of addressing a possible abolition of bous to the sea, after the Consistory publicly declared the option to put an end to the party, in which A bull drowned on July 10.
From the animal party they refer to the statements made by the mayor, Vicent Grimalt, days ago, on 92.5FM, after learning that El Verger will not have the bou embolat in municipal celebrations; and questioned by the death of that cattle in the Dianense patron saint festivities. The answer was clear, and it was that the government team had already planned to put the issue on the table to try to reach the best choice. In any case, Grimalt commented that there is a clear difference between the bou embolat and the Bous a la Mar, when it comes to suffering. The mayor told us on the air that "life evolves and there are customs that must be changed so that these things do not happen."
Other animal protection groups would also participate in the meeting requested by PACMA, which have maintained very critical positions with this celebration over the years and have carried out different initiatives to create social awareness around the problem.
They consider that "it is of utmost importance to address this issue urgently, given the seriousness of the events that took place during the last celebrations and the growing repudiation of bullfighting events throughout Spain. The intention is clear: that they will not be repeated." 
"This meeting is expected to provide a platform for an open and constructive dialogue that allows the parties involved to explore solutions that respect the life and welfare of animals, setting an example and setting a precedent for other municipalities in Spain that still maintain these traditions," he explains. Elena Garcia, provincial coordinator of PACMA in Valencia.
Until the date of this statement, the Dénia City Council has not responded to the request for a meeting that has been issued. They hope that the response is positive and that we can move forward towards a resolution that ends the celebration of one of the most controversial bullfighting celebrations in the country.