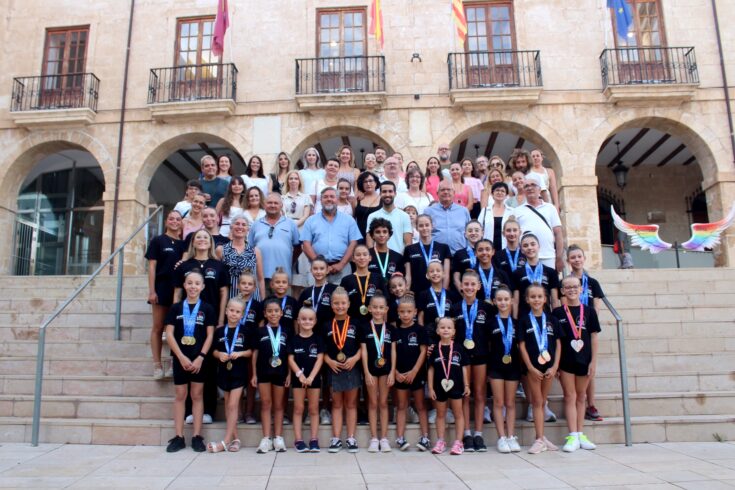 The gymnasts of the Dénia Gymnastics Club They had a reception where the diplomas were given to their most outstanding gymnasts. The event was chaired by the mayor, Vincent Grimalt whom they accompanied, the mayor of Sports, Valentin Alcala and the president of the club, Karina Raso.
Dénia and her Gymnastics Club have several triumphs and achievements to celebrate. The Dianense athletes, Marina Galstyan Kelejyan, Ainhoa Abad, and Anna María Lebedeva won the rhythmic gymnastics podiums at the Spanish Individual and Regional Rhythmic Gymnastics Championship held in Valencia.
The mayor and the Sports Councilor presented the diplomas to the champions and were congratulated by the triumphs of the three athletes from the Dianense club.
Marina Galstyan was proclaimed absolute individual champion of Spain in the junior category, and also won the gold medal in the hoop category and the bronze medal in the hands-free category.
Ainhoa Abad, for her part, was proclaimed champion of Spain for juniors in the hands-free modality and champion of Spain for autonomies with the Valencian Community.
Likewise, Anna Maria Lebedeva won the bronze medal with the Valencian Community, in the juvenile category.
Valentín Alcalá commented that, "I really think that you are a great source of pride for Dénia. Gymnastics is a sport that requires a lot of effort, teamwork, discipline, involvement, and often sacrifice... but also resilience. And you are growing with these values and representing them exemplarily. I have no doubt that a successful career and many more recognitions await you. And I hope so. Congratulations and thank you very much".
Vicent Grimalt thanked the Dénia Gymnastics Club for their work, "because we know that you are, in addition to being great athletes, a great family. And this experience and these successes teach you that with enthusiasm and perseverance you can achieve any goal you set for yourself, both in the sporting field and in life. Congratulations!"