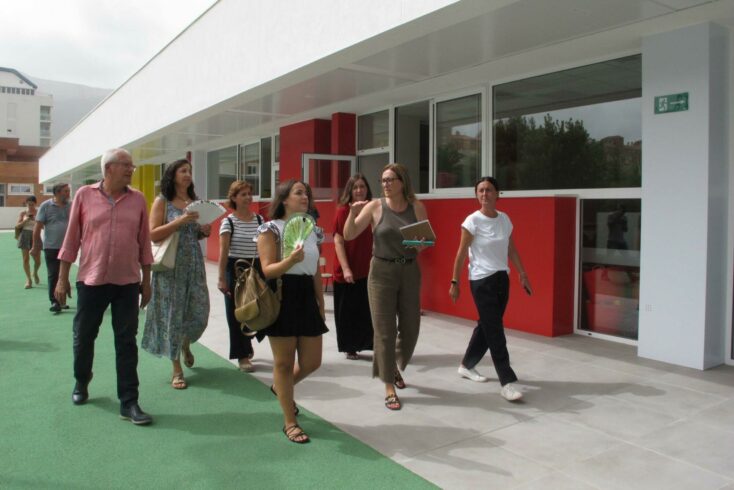 Going back to school in Dénia, on September 11, comes with news.
The CEIP Pou de la Muntanya will open a new Infant classroom and a new gym. These works, framed in the Pla Edificant of the previous Botanic Government, have had a budget of 1.5 million euros.
Once the works were completed, this morning an institutional visit was made to these new facilities, by Mayor Vicent Grimalt, accompanied by the Vice Mayor, Rafa Carrió; and the councilors of Territory and Urban Quality, Maria Josep Ripoll; of Education, Melani Ivars; and Economic Promotion, María José García. The director of the CEIP, Empar Bustos, acted as host, explaining the details of the actions carried out.
The design of the new infrastructure shows two 'L'-shaped pieces, with differentiated functions. On the one hand, the gym. And on the other hand, the spaces intended for Early Childhood Education. The new building is planned on the ground floor.
The new classroom has 7 classrooms in total, indicated Bustos, who highlighted that, for the first time, the Pou de la Muntanya will have a class for 2-year-old students; with 18 enrolled.
This new classroom will imply the unification, in the same center, of Early Childhood Education (which until now was taught in the El Rodat building, on Alicante Avenue) and Primary. An aspect that has been highlighted by the director herself, who has shown her satisfaction because "it seemed like there were two schools" and "the teachers also wanted to be together." Councilor Ivars believes that families "will also appreciate this unification."
After the completion of the works, during the first fortnight of August, Education has coordinated with other municipal departments the transfer of all the furniture from the El Rodat building to these new facilities.
The mayor has highlighted the fact that this is "an example of what the Pla Edificant, of the previous Botànic Government, has represented"; some installations have affected, which have been executed in "record time." Grimalt has insisted that if it had not been for the Pla Edificant, neither this work nor other educational projects carried out in the Primary and Secondary educational centers of the regional capital would have been possible.
The first mayor recalled that there are still works pending execution, charged to the Pla Edificant. This is the case of the new CEE Raquel Payà, and the new Conservatory; Official Language School, the expansion of the IES Maria Ibars, and the future Gent de Mar. Grimalt trusts that the new government of the Generalitat Valenciana will continue with these works.