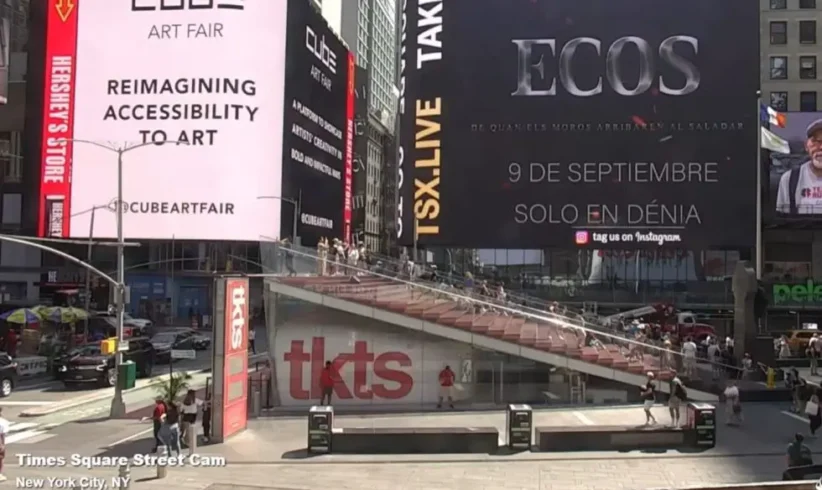 The history of the Moors and Christians festival of Dénia has managed to reach New York.
This week, on Tuesday, September 5, part of the trailer for our campaign 'Ecos, de quan los moros arriven al Saladar' could be seen in Times Square. In this way, "the traditional festival of the Moors and Christians has crept into the streets of New York," as the representatives of the Federation of Moors and Christians of Dénia excitedly indicate.
"This is a dissemination campaign that refers to the history behind this mythical festival that is celebrated in our city to promote the culture and tradition of the area." For a few seconds, visitors to this lively and famous area of Manhattan saw this event on one of the large advertising screens that will take place next Saturday, September 9 in Dénia.
"We believe that the production that we develop in our streets during the Moors and Christians has nothing to envy of film productions, so it made perfect sense to promote our festival through the big screen," they say from the Femmicc.
Echoes, an advertising campaign with a movie flavor
The Federation of Moors and Christians of Dénia has opted this year to enhance its festival even more. And it has done so through an original advertising and dissemination campaign that has been carried out on different large screens around the world. In the case of New York, it has done so on a screen that receives 137 million views a year and more than 400,000 daily visitors.
The advertising agency behind it is Plus Media, located in Dénia. As agency sources indicate, this campaign has sought to impact the audience as if it were an audiovisual production. That is, different pieces have been made as a trailer, a sign announcer in billboard format and has been disseminated through the media and social networks of the federation.
The epic aesthetic, which recovers part of the city's lost history, has been accompanied by some verses by Lope de Vega compiled in his collection of poems Fiestas de Dénia, published in 1599. In fact, for the first time, they have been set to music to accompany the trailer for this campaign. History, music and audiovisual image have come together to promote a parade in Dénia that will be held this Saturday. The name of this event is 'Ecos, de quan els moros arriving at Saladar', and where can it be enjoyed? On the biggest screen there is, real life.